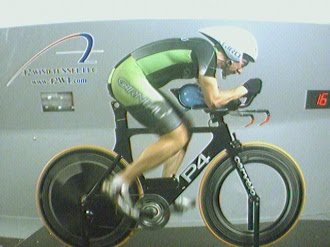 Tomorrow, Saturday, Feb 13, Al Smudz of Monroe, Michigan, will attempt to break the UMCA 24-Hour Indoor record of 535.86 miles currently held by Michael Secrest. Secrest average 22.32 mph for 24 hours.
Al is an accomplished ultracyclist having won the Race Across Oregon twice and the Sebring 24-hour once. He has been focused on this record attempt for over a year.
If you are in the Los Angeles area the weekend of February 13th, you are invited to stop by the Home Depot Velodrome. There will also be a webcast during the record attempt. I'm not sure what they'll be showing besides Al riding in circles hour after hour.
If all goes according to plan, Al will circle the 250-meter track about 3500 times and average close to 23mph.
– UltraRob
Tags: cycling, ultra cycling