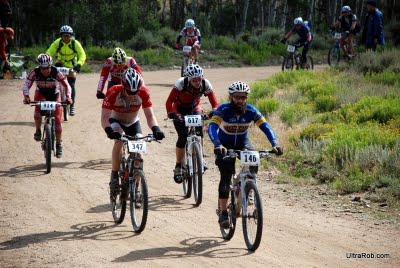 This post is part of the Leadville 100 MTB FAQ.
If you're like me, you probably won't be doing a lot of sleeping the night before the Leadville 100 but it's good to get is much rest as possible. Taking Ambien really helps but I still wake up through the night. Having lodging close to the start/finish some years has allowed me to crawl out of bed as late as possible.
Leadville is a small town and lodging fills up quickly after the lottery results are announced. Some people make reservations before they know whether they're in as long as they can cancel the reservation. The only chain motel in town is the Super 8.
The Leadville 100 site has a list of lodging in in or near Leadville. If you're on a budget and don't mind dormitory style lodging, the Leadville Hostel is a good option. I've heard good things about the Columbine Inn and Grand West Resort.
A couple years I've camped at the Sugar Loafin' Campground. You have to make reservations early to get an RV spot. At least in the past they've had an overflow tent area so they've been available closer to the race but one year they were full even for tents. There are also several National Forest campgrounds around Turquoise Lake. The Leadville RV Corral is located right at the edge of town but just looks like a bunch of RV spots lined up right next to each other.
If everything is full in Leadville, there are some nice B&B;'s in the town of Twin Lakes about 20 miles away. The town is on the far end of the lakes away from the race course. Ores & Mine B&B; is closer to Leadville and right on the race course where the paved road drops down near the Twin Lakes Dam. We stayed there after the race once and it was very nice.
Copper mountain is only a couple miles farther away in the opposite direction from the town of Twin Lakes. It should be less than a 30 minute drive. Because of the ski area there are several lodging options there.
– UltraRob
Related Links
Tags: Colorado, endurance racing, Leadville 100, mountain biking