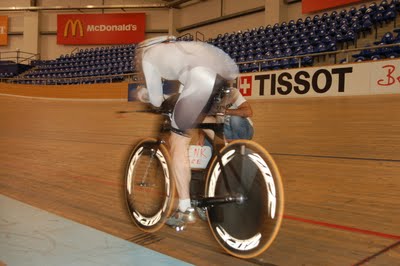 Al Smudz didn't succeed in his 24 Hour Indoor Cycling record this weekend. Vinnie from SaveGasBurnFat.com was doing great updated throughout the day on the webcast. Ultra rider David Holt was there helping with handoffs. Vinnie and I crewed both for Holt when he attempted RAAM.
Al was riding strong early on but started having bad stomach problems before he hit the 12 hour mark. The stomach problems slowed him and he missed the 200 mile and 12 hour records that Michael Secrest set on his way to setting the 24 Hour Indoor Cycling Record a few years ago.
The last update from Vinnie was 13 hours into Al's record attempt. He had completed 1891 laps and 293.75 miles. His average speed at that point was 22.58.
Here are a few thoughts from Al after he ended his record attempt.
This is Al. Today wasn't my day. You chase a dream and you don't always get there the first shot. Sports are great because…sometimes the agony of defeat is the great motivator. I'm just a working stiff. I do this because I love cycling. I don't have any sponsors and the only value I get is from looking myself in the mirror and getting the satisfaction that I did my best today. I really wanted to bring the excitement of an event like this to you. Other than the WR is was my second goal. I hoped people could see that ordinary people can be competitive in sports even though they don't have the genetics to be a pro whatever. It takes goals, discipline, and sacrifice, but its possible. I guess my journey isn't over. I hope I'll bring your WR attempt #2.

Thanks for looking in. I haven't read the event yet but I hear people from all over the word shared the magic. The world needs to see us normal guys dream.

For me. Well its back to the drawing board. I only had something like this happen one time. It was at the Race Across Oregon 2006. That defeat really motivated me for a year, and I was able to come back and win the next to years. My brother had a good observation. He feels my aggressive position made it hard for my heart to send blood to much besides my legs. My stomach didn't process very well today and my vision was extremely blurry. That points to circulation because my water and carb intake was pretty close to what I wanted. Back to the drawing board. Its been an ugly day, but I'll live to ride again.

Thanks, Al
In the dirt, endurance mountain mountain bikers are wrapping up their race at the 24 Hours in the Old Pueblo.
– UltraRob
Tags: cycling, ultra cycling