Update 3/12/10: Free climbing at City Rock this weekend (March 13th and 14th) for their Grand Opening.
I got into rock climbing when I was in college. I was one of the first couple dozen climbers to sign up before the Sport Climbing Center was officially opened. I quit climbing because it was taking away time from training on the bike. I also bulk up easily and the extra weight was hurting my mountain bike racing.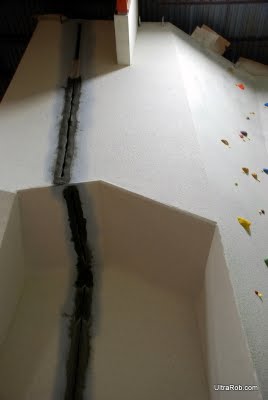 I may not be climbing any more but I've been following the progress of a new rock climbing gym in downtown Colorado Springs, City Rock. I got a sneak peak of it a couple weeks ago.
It will be opening this Saturday, December 26th, and will be open from 10 AM to 8 PM. The bouldering wall isn't built and not all of the main wall is completed. Their goal is to have everything completed by the beginning of February.
They are having membership specials just on Saturday. See their website for the specials. The membership also includes their Monument location.
The City Rock membership costs more than the Sport Climbing Center. City Rock does have a much higher wall that is 45 feet high and they'll also have a crack climb. I don't know if Sport Climbing Center has added one.
In addition to the climbing, there is also a CrossFit center (SoCo CrossFit has moved to a different location) with coaching and group workouts. It is a separate membership but they'll have a discount for those that want to do both. Group workouts are free through the end of the year. See their website for schedule. LifeQuest Transitions is also in the building.
Yesterday I chatted with the owners, Lara and Joe. They were very friendly and showed me around. Lara said they want to have a cafe area something like Kinfolks at the front where people can hang out and meet for outdoor adventures.
You can see more City Rock Climbing Gym photos on SmugMug.
– UltraRob
Tags: City Rock, Colorado Springs, rock climbing