Update: Wyss Wins, Robic Quits!
The last couple years, Jure Robic has dominated the Race Across America. Robic has won 4 out of the last 5 years.
Robic didn't win in 2006. That year Dani Wyss won. Robic was taken off the course by ambulance in Pagosa, CO with respiratory problems.
2006 was the year I raced and I remember RAAM legend, Danny Chew, telling me all I had to do to be one of the few to beat Robic was to finish. I ended up dropping out at the Mississippi due to a leg injury though.
This year Robic and Wyss are locked in battle. It was long been said that the race doesn't really start until the Mississippi. In the race from the Mississippi to the finish, Robic started with about an hour lead over Wyss.
Now 2500 miles into the race, Wyss has closed the gap and Robic and Wyss are trading the lead on the road. In reality Wyss has the lead. Robic has 1 hour of time penalties and Wyss has none.
Robic's latest time penalty was from taking the wrong route to time station 40. There was difference between the GPS file and the route book. RAAM rules state that the route book is the official route and GPS is only provided to assist crews.
If a racer goes off course, they must go back to where they went off course and continue riding the course. They can be shuttled back to that point by vehicle. Apparently it was quite a ways back to where Robic went off course and his crew chose to take a 30 minute penalty instead.
Robic wasn't the only one to have route issues yesterday. Earlier in the day, Wyss rode 9 miles off course before being taken back to the course. His crew estimated he lost 45 minutes from the route mistake.
With 500 miles left to race, both riders and their crews will have to manage their sleep breaks very carefully. Sleep too much and they could lose the race. Not sleep enough and they could crack and lose the race.
It seems that Wyss has been riding faster the last couple days but also taking longer sleep breaks. Maybe he's more rested. Robic though is known for not needing much sleep.
Dani Wyss' blog (Google translation) has interesting graphs comparing the average speeds between time stations 24 and 40
Robic Avg Speed
Wyss Avg Speed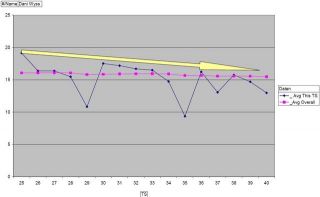 The solo women's race is also close. Janet Christiansen and Daniela Figueiredo Genovesi are about 30 minutes apart a few miles past the Mississippi. The have a little over 900 miles left to race.
In the women's race, Christiansen has no penalties and Genovesi has 30 minutes so that extends Christiansen's lead. It does seem though that Genovesi has been riding better the last day so it'll be interesting to see how the race plays out.
Update: Wyss Wins, Robic Quits!
Related Links:
Tags: cycling, Jure Robic, RAAM, Race Across America, ultra cycling