As I know all too well from my 2006 RAAM attempt, a RAAM racer can quickly go from riding well to struggling to move down the road. David Holt was riding well most of the way to Durango.
David took a sleep break in Durango. When he got up he mentioned that his butt was getting sore. My butt was hurting by that point when I raced so I wasn't that concerned. We just knew we needed to do something to try keeping it from getting worse.
Before we got to the next time station in Pagosa Springs he was having trouble putting power into his pedal stroke because of the pain. We got a hold of multi-time RAAM finisher George Thomas to try figuring out more to do. We got more supplies in Pagosa Springs but David continued to suffer.
During what was to be crew chief Lisa and my sleep break, we spent time trying to figure out how to get some Assos Chamois Cream, different saddle, different shorts, and a saddle cover. A big thanks to Gearing Up Bicycle Shop in Taos, NM for agreeing to take a couple pairs of shorts to a hotel so we could pick them up after hours. I called my sister and had her overnight the other things from Colorado Springs, CO to a hotel in Clayton, NM so we could pick them the next afternoon.
I jumped back into the follow vehicle in Antonito, CO. It was cold and David is from southern California. Before the night was over the temperature would drop into the 30s. David was not doing well. It was tough to see him struggling so much.
As we were talking in the follow vehicle, I found out that we did have another saddle for him. We had David stop for a quick saddle change. It seemed to help him but not enough.
I noticed that David wasn't eating as much as he should have been. Vinnie and Ken who had already been in the vehicle for a while said they'd been having trouble with it for a while. I talked to David and he said he no longer could take the taste of the Ensure and Perpetuem that had been the majority of his calories.
We got him to eat some but I think it was too late. His energy levels were dropping which caused him to get really cold. We kept putting more layers on him but it wasn't helping. It seemed that he was getting hypothermia.
We were already planning on having his saddle sores checked at the ER in Taos. We weren't optimistic they'd be able to do anything but figured it was worth a try. In Allen Larsen's rookie RAAM, he had stopped because his butt was in pretty bad shape. The ER doctor told him, "Son, you just have to stop riding the bike." Allen got back on the bike and finished 3rd.
We were still about 35 miles from Taos when it was obvious David wasn't riding there without getting warmed up and some relief from his saddle sores. We got him in the follow van and started driving him into Taos. There was a bridge part way to Taos where we'd been warned we might have to stop for 30 minutes because of a movie being filmed.
There was a sheriff sitting there and we told her we had an emergency and needed to be able to get through. It turned out that traffic wasn't stopped but she said she'd give us an escort into Taos. At the edge of Taos, an ambulance meet us and took David on into the ER.
By the time we went to a hotel and ate some food, David was there from the ER. Not surprisingly the ER doctor told him he should stop. David said the race was over.
Some of us on the crew wanted him to try continuing on. We decided we'd let him sleep as long as possible and still be able to get him back on the bike and make the time cut-off in Taos. We doubted he'd change his mind. Still we wanted to leave the possibility open.
David actually was back up by the time we got up. We read him an e-mail that a winner of the Race Across Oregon had sent encouraging him to go on. We also got George Thomas to talk to him. The answer was still that the race was over for him.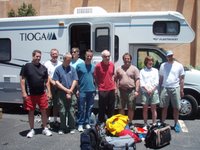 Lisa made the official call to race headquarters. We then made plans to get everyone back home and get the vehicles back to where they needed to go. It was disappointing to not see him able to go all the way but RAAM is a brutal race. Only a few racers start and only about half make it all the way to the finish line.
Tags: cycling, RAAM, Race Across America, ultra cycling