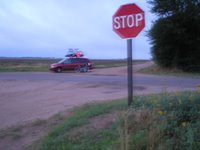 After leaving Pratt, KS with only 30 minutes of sleep plus dozing a little while at the chiropractor, I struggled to stay awake. I feel asleep on the bike more than once. I always struggle to stay awake between 2 and 4 AM. I ended up taking a couple 10-15 minute naps to get me through to daylight.
Once it got daylight, staying awake wasn't as much of an issue. A bigger issue was I couldn't get any power out of my left leg. Mentally I was wanting to go but I just couldn't get my body to cooperate. I knew the race was over for me unless my condition improved drastically. It was very hard for me emotionally.
A couple local cyclist that were out riding, made a U-turn and rode with me for a few minutes which was a big help. We stopped where the crew from an European rider was stopped. They didn't speak much English but where more than happy to see if they could help. They took me into their RV and do some massage. Unfortunately I couldn't tell a difference when I got back on the bike.
My wife wasn't in the follow car but I decided that when I got to the 2 hour mandatory stop in El Dorado, I'd discuss dropping out. When we got to El Dorado, things were a bit crazy. There was friction on the crew and my wife was upset.
We had started with 6 crew members which I think is the minimum that works well. One guy needed to leave the crew in Colorado and my wife would replace him. After Stormy left in Ulysses, the crew was down to 5. This made getting sleep tougher since we needed 3 crew in the follow vehicle. We had been on the road for most of a week and everybody was getting very tired.
I got all the crew together and told them they needed to not take things too personally. Everybody was doing their best but they were all sleep deprived. I then went to sleep without discussing my thoughts about dropping out.
Tags: cycling, RAAM, Race Across America, ultra cycling