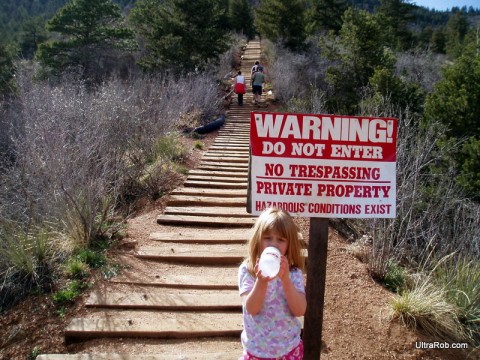 The long climb to legalizing hiking the Manitou Incline is taking another step tomorrow, January 20. There will be an open house about the draft Manitou Incline management plan from 5 to 7 p.m. at Manitou City Hall, 606 Manitou Ave. Instead of a presentation, there will be stations that cover the various topics of the management plan.
I haven't found info on what changes they've made to the draft Manitou Incline plan since it was presented in October. The 2 most unpopular rules were only allowing hiking from dawn to dusk and no dogs. Also those at the October meeting didn't feel the plan really had any plan to address the parking issues.
I've been told that the main fundraising for money to repair and maintain the Manitou Incline will be done through the Incline Friends group. The Trails and Open Space Coalition is facilitating creating the Incline Friends. It is free to join the group. E-mail This e-mail address is being protected from spambots. You need JavaScript enabled to view it
or call at 719-633-6884.
The friends group needs volunteer help in these areas:
Leadership and Coordination
Fundraising
Partnerships and sponsorships
Grantwriting
Education/Outreach
Volunteer coordination
Maintenance and Construction – physical labor on the Incline.
The open house tomorrow isn't the final meeting. The recommended plan will also be presented at the public meetings of various appointed and elected bodies of Colorado Springs and Manitou Springs over the coming two months before it will hopefully be approved by the landowners later this spring. The other planned meetings are:
TOPS Working Committee: February 2, 7:30 a.m. Parks, Recreation and Cultural Services Department, 1401 Recreation Way
Parks and Recreation Advisory Board: February 10, 7:30 a.m. Parks, Recreation and Cultural Services Department, 1401 Recreation Way
Colorado Springs City Council: February 22, 1 p.m. Colorado Springs City Hall, 107 N. Nevada Avenue
Manitou Springs Planning Commission: March 9, 7 p.m. Manitou Springs City Hall, 606 Manitou Avenue
Manitou Springs City Council – TBA.
Tags: Colorado Springs, hiking, Manitou Incline, Manitou Springs