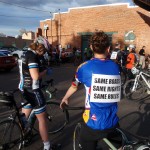 Wednesday evening was the Ride of Silence. There were 310 rides across the world. Here in Colorado Springs we a good turn out with about 30 riders. We rode from Old Town Bike shop to EJ and Jayson's memorial on the westside.
Thanks to David Peal for printing up signs and getting them laminated so we could pin them to our backs. They said "Same Roads, Same Rights Same Rules", "Ride of Silence" and "Share the Road". Allen Beauchamp arranged to have a bagpipe player at EJ and Jayson's memorial. Allen also helped out by contacting the police and letting them know we'd be riding.
Thanks to everyone who came out. I'd like to see our ride grow larger. If it gets much bigger, we'll need police escort to stay safe and not have issues getting separated by traffic lights.
News First 5 had good coverage of the ride. Click the Video tab to see their on air report.
Tags: Bike, Colorado Springs, Ride of Silence, share the road