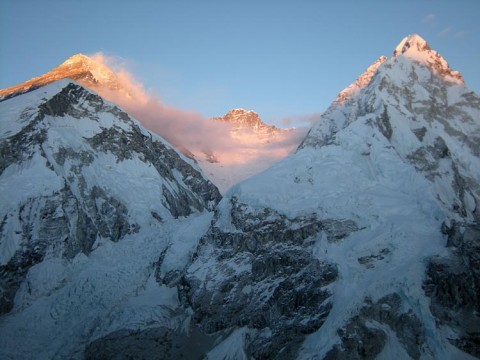 Everest, Lhotse and Nipse viewed from the Pumori base camp
Photo courtesy of
International Mountain Guides
. Dave Hahn is a guide for IMG
As the wind buffets the Colorado Front Range today, it makes me think about Mount Everest and its legendary jet stream. 
This is the climbing season on the world's highest peak. According to everestnews.com, there have been 401 summits and two deaths as of Sunday. On Saturday, Jordan Romero, 13, became the youngest person to reach the summit. Romero, from California, has now climbed six of the world's seven summits – the highest peaks on each of the world's continents.  He started with Mount Kilimanjaro when he was nine.
If the weather holds, more history will be made today.  Dave Hahn is climbing toward his 12th summit of Everest. At 11 summits, he already held the record for more summits than any other non-Sherpa climber.
Hahn is guiding Leif Whittaker, 25, the son of Jim Whittaker, who was the first American to climb Everest in 1963. 
He's posting written and audio reports from the mountain. Read and listen to his comments via satellite phone on www.greatoutdoors.com
Hahn is one of the most respected mountain guides in the world, and he has spent much of his life on the world's tallest peak. And he is continually asked why he keeps returning.
I remember reading his list of "Top 10 Good Reasons to Climb Everest" posted several years ago on mountainzone.com: 
 1. What else are you going to do with your life? It's only life, after all.
 2. Because it's still there.
 3. Can't beat the food.
 4. It is hard as heck and the outcome is uncertain.
 5. Everest is a beautiful and aesthetic peak.
 6. Everest is higher than any other mountain.
 7. ???
 8. —
 9. !!!
 10. OK, so we occasionally run out of good reasons to climb Everest. 
Tags: Dave Hahn, mountaineering, Mt. Everest