Update: There are free parties the evening before and after the bike show.
It may still be cold and snowy in much of the US but the days are getting noticeably longer. It will soon be better weather for road riding and mountain biking. The 2nd Annual Peak Region Bicycle Show will be just in time to drool over cool new gear. If you're saving your pennies you may be able to take some of it home with you.
The 2nd Annual PRC Show will be on Saturday, March 6th, 2010 at the Norris-Penrose Event Center in Colorado Springs (1045 W. Rio Grande St.) Show hours will be 10 AM to 3 PM. I was surprised at the good turn out to a first year show. Show promoters are expecting about double last year's visitors and several more exhibitors.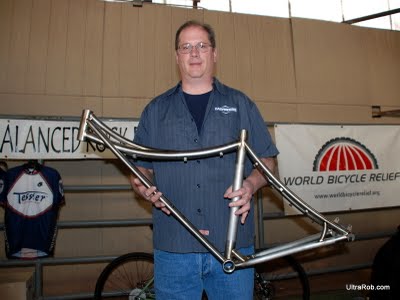 Join these great companies at the show – Ground Up Designs, Tessier Bikes, Pro Cycling, Criterium Bicycles, CS West Bikes, Colorado Springs Bike Shop, Bicycle Experience, Teds Bicycles, Angle Tech, Studi-07, Primal Wear, Magura, Rec Rac, Tri Stuff 4 Less, Carmichael Training Systems, Metro Rides, Garmin, Rocky Mounts, Fruita Fat Tire Festival, advocacy and trail building groups … and many more!
You can read my report of last year's Peak Region Cyclist Bike Show here. I also have last year's photos from the PRC bike show here. It's a fun event and I encourage you to come to it.
– UltraRob
Tags: Colorado Springs, cycling, mountain biking