Tonight was an exciting night of cyclocross racing at Cross Vegas.
In a surprise move in the Elite Men's race, Chris Jones went off the front early and only Jamey Driscoll jumped up to him. They managed to stay away the rest of the race.
Photos of Cross Vegas Elite Men
A bit of Cross Vegas video.
Cross Vegas Elite Men Top 3
Jamey Driscoll
Chris Jones
Jonathan Page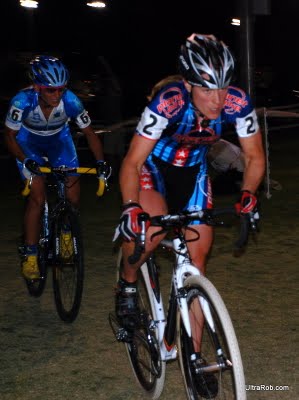 In the Elite Women's race, Katie Compton started hard and soon only Katerina Nash could stay with her. A few laps in, Nash crashed in a corner and never got close to Compton again. Kelli Emmett, racing with a broken hand, fought Georgia Gould hard for 3rd place but ended up coming away with 4th.
Photos of Cross Vegas Elite Women
Cross Vegas Elite Women Top 3
Katie Compton
Katerina Nash
Georgia Gould
– UltraRob
Tags: cycling, cyclocross