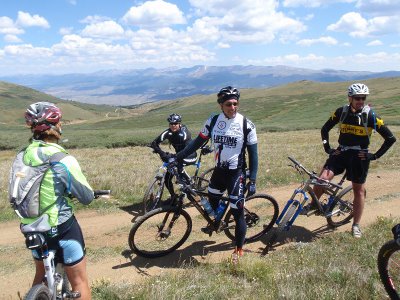 Posting has been light lately since I've been busy training for the Leadville 100 mountain bike race. Last weekend was my last big weekend of training.
Now it's too late for training to make much of a difference and too much riding will make me slower. I still need to do some riding for the next week to keep the legs fresh for race day though.
Since I didn't get in consistent training until the beginning of July, my fitness is far from where I need it to be. Like last year I'll be struggling to make the 12 hour time cut-off. I did it in 8 hours and 18 minutes in 2004 so that gives you some idea how far off my fitness is. Since this is my 6th time racing the Leadville 100, I at least have experience on my side.
The weekend before I raced the Silver Rush 50. I struggled to finish it but I could tell this last weekend that my fitness had taken a big jump. I know pushing myself through the Silver Rush when I didn't feel like it was a big part of it.
I had too much to do at home so didn't leave until late Saturday afternoon. I got to Leadville in time to ride from the start to the top of the steep part of St. Kevins. On the way back I rode up the Boulevard. On race day it always takes longer than it seems it should. The ride was short with about 16 miles.
Since the biggest benefit from altitude comes when you're resting or sleeping, I drove up to timberline on the Columbine Mine climb and slept in the back of my vehicle. The elevation was about 11,700 feet. Sometimes when I sleep at that altitude I don't sleep well but I slept fine.
Sunday was my big day of pre-riding. I started by driving down to the bottom of the Columbine Climb. I met a few people training for the Leadville 100. Some are doing for the first time this year.
We rode up to the top of the top of Columbine. It's a very long climb. The bottom isn't too steep but some sections about timberline are very steep. I felt stronger than I expected to so that was good.
Of course the fun part is coming back down. It's less fun on race day because racers are still going up and you're forced to ride through some loose, rocky sections.
Once back down Columbine, I refilled water and Perpetuem. I then rode over to Twin Lakes and toward the Pipeline section. I got my first view of the new singletrack that replaces the old Cobra/North Face steep section.
The new singletrack is considerably longer. I expect it'll take a few minutes longer outbound. Since there's little room for passing it may even add more time since I'm a faster descender than most. Inbound it may not take much longer since it should be rideable instead of being a hike-a-bike section.
I rode on over to the base of the Powerline climb but I was really tired and low on energy when I got there. It was 20 miles back to my vehicle so I just turned around. I've seen it plenty of times so not pre-riding Powerline isn't a big deal.
I rode 57 miles of the course on Sunday. That gave me a total of 73 miles on the course for the weekend. I always like having it fresh in my mind for race day.
I've created a Leadville 100 course map from my pre-riding. I took several photos and the placed in the correct spots on the map. Just click the camera icons to view them do a virtual tour of the course. The part I didn't ride goes around the backside of Turquoise Lake and up Sugarloaf mountain.
Tags: Colorado, Leadville 100, mountain biking