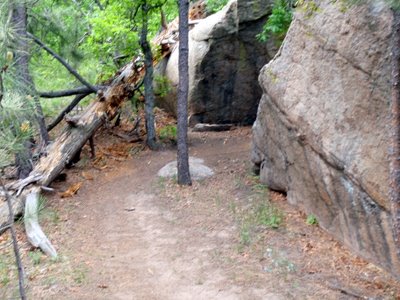 Update: Pro XCT Race Report | Short Track Race Report
Next weekend will have the most competitive mountain bike racing Colorado Springs has seen. The CTS Sand Creek International Classic is being held at Cheyenne Mountain State Park. It is one of only 7 mountain bike races in the US this year with international ranking points. Most of the top mountain biking Pros are registered to race.
The race isn't just for the Pros. It's part of the Sand Creek Series and will have all of the categories. See the race flyer for start times and number of laps. Pre-entry online is encouraged and closes on Wednesday.
Although we have some better mountain biking trails, the Cheyenne Mountain SP course is nice. For a race of this level, there needs to be easy access and room for an expo area. For those reasons, Cheyenne Mountains SP was chosen.
Most of the 1st half of the course is climbing. There's a little up and down across the top before descending back to the start/finish. When I rode it, I got 5.02 miles and 1,070 feet of climbing. The official course GPS track has 4.9 miles and 960 feet.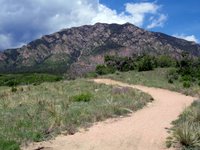 The lower part of the course is open with plenty of places to pass. It'll be hard to pass on the first part of Cougar's Shadow but it's possible to pass just before it on the Blackmer Loop.
Originally the rocky, technical Medicine Wheel Trail was part of the course. It was taken out due to concerns about it being a bottle neck at the start of the race.
The lower trails have been covered with crushed limestone to reduce mud. When it's dry, it can be easy to slide on it. Some of the upper parts of Blackmer Loop and Cougar's Shadow don't have the limestone.
Most of the course is non-technical but there are some tricky rock sections on Cougar's Shadow. There's a rock garden at the junction of Zook Loop and Blackmer Loop. The course designer told me he thought it would be faster to run it but I was able to easily ride it without slowing much.
I've created a Google Map of the CTS Sand Creek International Classic course. If you click on the camera icons, you'll get photos of that part of the course.
The USA Cycling National Series Short Track Cross Country race is also Friday afternoon/evening. It will be held at Bear Creek Terrace on some of the same trails as the Wednesday evening Sand Creek races.
Related Links: Pro XCT Race Report | Short Track Race Report
Tags: Colorado Springs, mountain biking