Bicycle Dreams is a new documentary about the 2005 Race Across America (RAAM). Bicycle Dreams won the Best Documentary Feature at the Fallbrook Film Festival.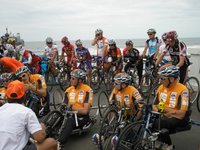 RAAM has been called the world's toughest sporting event. The top racers ride their bike 3,000 miles from coast to coast in only 9 days. More people have stood on the summit of Mt. Everest than have finished RAAM. It's more than just an event. It's an extreme journey.
I first became fascinated with RAAM over 20 years ago. I found a book about it at the library when I was in high school. I continued to follow the race but for many years I didn't think I'd actually compete in it. In 2006 I did race in RAAM although I dropped out at the Mississippi River, 2,000 miles and 8 days into the race.
Because the racers are riding more than 20 hours a day and end up spread across several states, it is a difficult event to cover. Filmmaker Stephen Auerbach and his crew traveled inside the riders' crew vehicles to get an inside look at the race. They used 18 cameras to capture the scenery and the highs and lows of the racers.
Auerbach doesn't cover the race much from how the racers are doing in the race standings but focuses on their own personal battles. Battles with things like sleep deprivation, hallucinations and physical ailments that come from pushing the body to the extreme.
One of the things that the film tries to answer is why someone would attempt to do an event like RAAM. In trying to find the answer, it looks at the history of some of the racers and how it motivates them.
The 2005 RAAM was the year that tragedy stuck and Bob Breedlove was hit head on and killed instantly. Bob was a 5 time RAAM finisher. Bicycle Dreams follows Patrick Autissier as he tries to deal with Bob's death on top of his race battle.
I have seen several RAAM videos over the years and Bicycle Dreams shows the emotions of the race the best. RAAM fans will love the film. Even non-cyclists will enjoy watching it and seeing how riders deal with pushing their limits.
Bicycle Dreams is now available on DVD from Amazon or from the Bicycle Dreams website. I suggest you order your copy today.
For more about RAAM, check out my Race Across America FAQ. The 2009 race starts on June 17th.
Tags: cycling, RAAM, Race Across America, ultra cycling