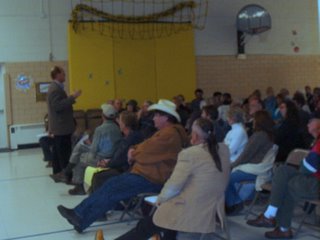 Last night I went to the pre-application meeting for annexing White Acres. Read my post on White Acres from a couple days ago to see video and learn more about it.
City council rejected buying White Acres for open space during a closed session in September. Howard says he and the church would still rather see the land left as open space. He said even if they submit the annexation application, they will pull it if something can still be worked out for open space. Of course the church and Infinity want to get as much money as they can.
I believe the church would like to see it open space. Infinity is just doing business. City council made their decision behind closed doors so we don't know their side of the story. Somehow though it feels like Infinity is trying to force something.
David Litzelman from city planning talked about the process for annexation. John Maynard from NES, Inc. spoke about their preliminary look at how the land could be developed. Paul Howard from Infinity Land Corporation, half owner of the property, talked about the open space negotiations and responded to most of the questions. Although there was a representative from Bethany Baptist Church, the long time owner, in the audience, he didn't speak.
The Development Plan
The plan they are talking about would have townhomes near the 5 way stop at 26th, Gold Camp and Bear Creek Road. Currently there's a house on the corner. Howard said something about 6-8 units. I'm not sure how many townhomes would be in a unit although I've seen a number 16-22 total townhomes.
Up the hillside toward the south would be single family homes. Currently there's a pavilion in this area. There would be approximately 27 lots that would be around 1/2 acre.
They wouldn't be able to develop the hogback because of the city's hillside ordinance. They'd be willing to leave the area on the backside open space. Howard didn't know if it would be given to city parks or how it would be managed.
Peoples Concerns
Besides the obvious impact to the views and wildlife, peoples biggest concerns were traffic and water. Gold Camp Road the east would be able to handle traffic but I don't see 26th being able to handle much traffic. There were questions both about water for the homes and also how runoff would impact the surrounding area. Someone brought up a concern about increased risk of a brush fire and greater impact if there is one.
I asked what Infinity would do if the city council rejected annexation. Howard said they would go to El Paso county with development.
If the property isn't inside city limits, I don't believe Colorado Springs Utilities is required to supply water. It seems it could be difficult to develop it without annexation. I don't know much about development so does a reader have any insights on it?
Price Negotiations
According to Howard, the city had the property appraised by a Denver company in March. That appraisal was $800,000. Infinity thought that was too low and wanted another appraisal. An appraisal in July came in at $2.1 million. He said they have a bank appraisal for $3.2 million. He said they would have sold White Acres for $1.375 million.
Even at $1.375 million, the land would be $29,000 an acre. The city paid $16,000 an acre for Red Rocks Canyon Open Space. Howard said that less of Red Rocks would have been able to be developed so they aren't asking that much.
How You Can Help
Add your name to the Save White Acres petition (no longer active). They will be giving the list to the city.
Help spread the word that this land is about to be developed. Many people don't know it's private property and about to be developed.
Email Chris Lieber (no longer works for city) of TOPS and city parks
Contact your city council member
Tags: Colorado Springs, hiking, mountain biking, White Acres