This week we had a little snow. That didn't keep me and others from doing a night hike on the Manitou Incline. Once wasn't enough for Yeti so he did it twice.
I always find it a bit tough to go out when it's cold and dark but it doesn't take long before I'm enjoying it. Fresh snow at night always looks prettier than in the daylight when the light is flat. If it's still cloudy, the city lights reflect off the clouds and snow.
It was 13 degrees when I started out but I quickly was sweating from the workout. With the cold, I ended up growing some nice icicles. I stayed plenty warm the whole time without putting my shell on.
Since the snow was fresh and not packed, it wasn't very slippery. I was wearing my hiking boots and ended up not putting my YakTrax on.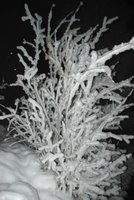 I learned one thing about working out hard in the cold and taking photos. Some guys hiking faster than me passed and I tried getting some photos. They ended up all fogged up. I checked the camera lens and it looked clear. I finally figured out the steam from my breathing was hanging in the air. I found I had to hold my breath for a few seconds before taking photos.
Please remember that using UltraRob.com to find your cycling and outdoor gear this holiday season helps those in poverty and disaster areas.
Tags: Colorado Springs, hiking, Manitou Incline