Tonight I rode over to the Bear Creek singletrack to watch the Sand Creek Series #3 race. I had thought about maybe racing the Clydesdale class since I'm that heavy. Since last night was my first ride in 2 weeks because of being gone for RAAM, decided it would do more harm than good.
I got there part way through the beginner and junior race. I then stayed for all of the Pro/Semi Pro/Expert and Sport races. It was good to see so many people I've raced with over the last 10+ years. It was a little strange cheering for them instead of being out there with them. It helped with motivation for me to get training and back in shape.
With the Pros doing about 10-11 minute laps, it was a good course for spectators. Also because the trails wind around so much there were places where you could see riders all over the hillside.
I took quite a few pictures. Below are several of them. I have more that I'll try uploading sometime. Since my computer crashed a few months ago, I haven't found the backup of the Picasa template that I have been using. Hopefully I can find it or recreate it.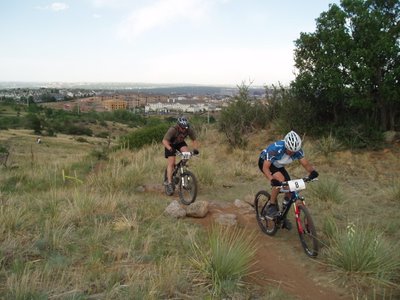 Tags: Colorado Springs, mountain biking