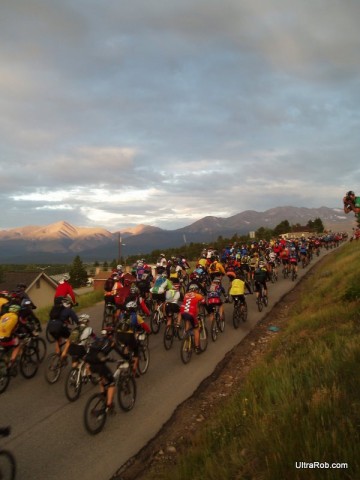 Update: Lance didn't race in 2007 but did in 2008. See videos of Lance and Dave Wiens.
There's no official word yet but everything points to Lance Armstrong racing the Leadville 100 mountain bike race on August 11th. In December he said he had a scheduling conflict and bailed on doing the race.
In April my doctor told me that a Leadville local had told him that Lance was doing the race on a new Trek bike. A little over a week ago he rode 45 miles of the Leadville 100 course with Chris Carmichael. From what I can tell, they started in Leadville and rode to the bottom of the Powerline or a little farther and then rode back.
Today someone posted to the Leadville 100 Yahoo group, that Lance was going to be here in Colorado Springs 2 days before the race for a charity event. I tracked down that he'll doing a fundraiser for Kids on Bikes at the Broadmoor Hotel the evening of August 9th after doing 2 kid's bike rides in the afternoon. The timing of the fundraiser here is perfect for him to be in Leadville for the race. We're less than a 3 hour drive away from Leadville.
Floyd Landis still says he's still racing the Leadville 100. Unless he's in a lot better shape than he was at the Vail Teva Mountain games he won't be a threat to Lance for the win. I have my doubts that Lance is in the kind of shape either to win over Dave Wiens but it seems we have a good chance at finding out.
Update: A Bicycling article says Lance is doing Leadville.
Related Links:
Tags: Colorado Springs, cycling, Dave Wiens, Floyd Landis, Lance Armstrong, Leadville 100, mountain biking