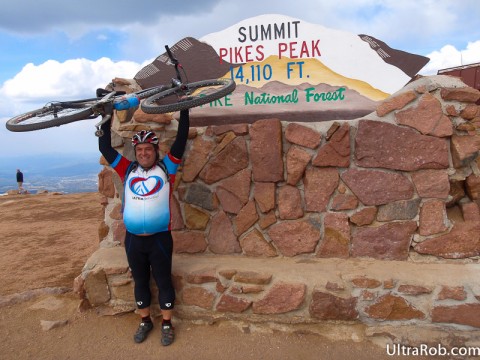 Bikes have long been banned on the Pikes Peak Highway but there have always been people interested in riding it. Until last year though, parts of it were still gravel so it wasn't road bike friendly.
There have been a few opportunities to ride up the Pikes Peak road over the years. Back in the 90s, there was a mountain bike race up the top 8 miles. The last couple years, Assault from the Peak started in Manitou and went to the Summit. This year it was called Pikes Peak Cycling Hillclimb and the start was moved up to Crystal Reservoir.
Back around the year 2000 when most of the road above Crystal Reservoir was still dirt, there was a trial of letting cyclists ride bikes on their own during September. Because of the dirt, it meant either riding a mountain bike or cross bike.
The thing that made it tough during that trial was the gate opened at 6:30 AM and bikes had to be off the road by 9 AM. The lowest you could start riding was Crystal Reservoir but even for a fit rider it was tough to ride to the summit and back in that time. I rode it with a friend. We parked a vehicle in Manitou and on the way down took the Elk Park Trail to Barr Trail. Even then I think it was nearly 9 by the time we got off the road.
This month, September 4-30, there's finally another trial of allowing bikes on the Pikes Peak Highway. This time bikes are allowed during normal highway hours and can start at any point. Riders are required to sign a special waiver form. It's $12 per person or $8 for groups of 4 or more.
Last Sunday the weather forecast was great and it fit in my schedule to ride up Pikes Peak. I rode from house and hit a trail through Garden of the Gods on my way to the Pikes Peak Highway gate. It was an absolutely beautiful morning!
It was after 10 when I got to the tollgate and by the time a group of 10 cyclists signed the waivers it was nearly 10:30 by the time I got through the gate. If they do allow bikes on the Pikes Peak road after this trial, I definitely wouldn't start up that late during the summer and it's pushing it even this time of the year.
The first few miles climb fairly steep before moderating. There's even a little bit downhill at Crystal Reservoir. After the halfway picnic area, it's up, up, up until well above timberline. Around Devil's playground, there's a slight downhill that gives a break before the final push to the summit.
Since I was going to ride down Barr Trail, I was riding my Santa Cruz Tallboy. It certainly doesn't make for a fast ride on pavement and I took advantage of the low gears and plodded along. I was in no hurry and enjoyed the great views and stopped and took plenty of photos along the way.
It was a warm day for late September and it wasn't until I was above timberline that I put on my arm and knee warmers. I didn't need my vest until after I reached the summit.
After hanging out with friends for a bit at the summit, I headed over the edge to start the ride down Barr Trail. I haven't ridden Barr Trail down from the summit in a long time because it's so tough. It was even tougher after riding the bike for over 6 hours.
I rode very little of the first 1/2 mile down the 16 Golden Stairs. After that I was on and off the bike a lot. I could see a couple bikes below me as I headed down. I caught up to them after a little while. One of them was another local Leadville 100 racer that I know.
Below Barr Camp, Barr Trail is all rideable and I made better time. As late as it was, there probably wouldn't have been many Manitou Incline hikers and runners on the trail but I still cut through Experimental Forest and down Long's Ranch road to US 24.
According to my Garmin Edge 705 download, I rode 55.56 miles and climbed 10,945 feet. The vertical seems a bit high however. My elapsed time was 10:54 with 9:06 of ride time. Riding from my house made a tough ride even tougher but it certainly was a great day on the bike.
Some photos of my ride are below and there are more Pikes Peak Highway/Barr Trail bike ride photos here. You can also check out my ride on Strava.
Tags: Colorado Springs, cycling, mountain biking, Pikes Peak