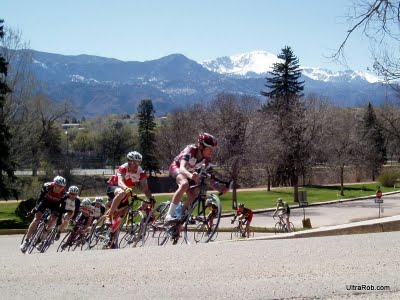 This week has been crazy and exhausting for me and I haven't posted about the busy cycling weekend here in Colorado Springs.
Tomorrow is the criterium at Colorado College. There are collegiate races plus USA Cycling classes. First race is at 8:30 AM and the last race is the Pro Men at 5 PM. More info on the race flyer. Here are some Colorado College Crit photos from a couple years ago.
Also tomorrow the Women's Mountain Biking Association of Colorado Springs is showing the movie Women of Dirt at McCabe's tavern. There's also a silent auction and price drawings. Event is from 4-8 PM with the movie starting at 5 PM. More info here.
Sunday is the hillclimb up Cheyenne Canyon. There's a leg burning 1,250 feet of climbing in 3.1 miles. Tom Danielson holds the record in 13:34. There's a $250 prize for breaking the record. First group starts at 9 AM with the Pro Men the last to start at 2 PM. More info is on the race flyer below the CC crit info.
– UltraRob
Tags: Colorado Springs, cycling, mountain biking