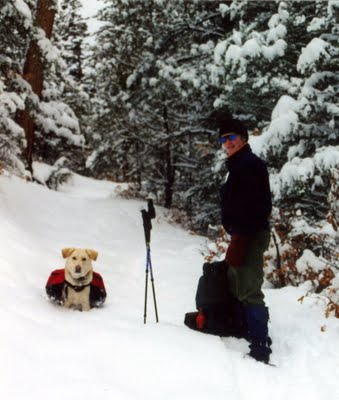 It's time to think about holiday gifts for your significant other – your dog.
Here's some of my favorite outdoor gear for dogs
Cool Pooch Sport Bottle. We used to try and give our dog drinks from our Nalgene bottles, but most of the water ended up on the ground. So several years ago, we tried the Cool Pooch bottle, and now we never hike without it. Its innovative design with a plastic straw allows you to drink from the bottle and pour water into the attached water bowl for your dog to drink.
Doggles goggles. You wouldn't think about heading out in the snow without your sunglasses. All that glare can harm your dog's eyes, too. Doggles have fully adjustable head and chin straps and their lenses are cushioned with foam.
Lands End Dog Squall Jacket. We aren't really into dressing up our beagle, but when the temperature drops, he starts to shiver. This practical jacket is wind- and snow-resistant, fleece-lined and easy to put on, and it's trimmed with reflective binding.
Dog booties from Dogbooties.com We tried to get our Lab to wear these a few years ago, and he high-stepped it around the house until he got them off his feet. But I know these things work – I've seen them on hard-working sled dogs in Alaska and Colorado. They come in nine colors.
REI Adventure Dog Tent. We've never had a tent for our dogs, but I love the idea of it. This would be perfect for a multi-day car camping trip. It weighs two pounds, five ounces, and is 45 by 37 by 31 inches.
Related Links: