This morning I got up way earlier than I felt like for a Saturday morning. It was time for the 2nd Pikes Peak Velo cyclocross race of 2009 and I was helping set up the course. It was fairly warm at my house but chilly out at Bear Creek Park.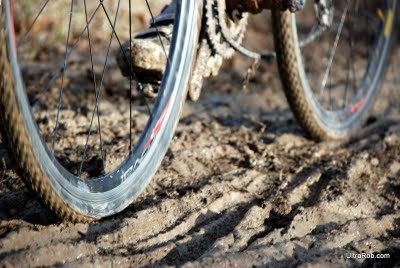 By mid morning the clouds cleared and it started warming up. This meant icy sections started turning to mud. As the day went out some of the mud tried out but the hill up from the creek stayed nasty.
The icy section before the muddy uphill that I thought would cause crashes didn't seem to until near the end of the Cat 4 Men's race. Dirty water covered rutted ice lurking beneath. A couple crashes within a few minutes left one racer with a possible wrist fracture.
I shot nearly 1,200 photos throughout the day. I've uploade some of the best photos from the cyclocross races today to SmugMug. I plan to upload many more but it may take a little while.

Here are the top 5 results for some of the categories
Men Open
Daniel Summerhill
Brad White
JJ Clark
Chuck Coyle
Aaron Baplai
Women Open
Kristal Boni
Jane Finsterwald
Magellan Able
Susan Prieto
Jenny Abrahan
Senior Men Cat 4
Richard Geng
Zachary Rudolph
Patric Rostep
Chris Bosch
Michael Christopher
Men 35+ Open
Jon Cariveau
JJ Clark
Chris Phenicie
Ward Baker
Jeffrey Hartman
Men 35+ Cat 4
John Mancell
Brad Hoagland
Scott Winborne
Doug Richards
Scott Mitchell
Bob Prieto
Men 45+
Gary Thacker
Tim Godby
Andy Fox
Greg Gorrell
Joe Paulan
– UltraRob
Related Links
Tags: Colorado Springs, cycling, cyclocross, Pikes Peak Velo