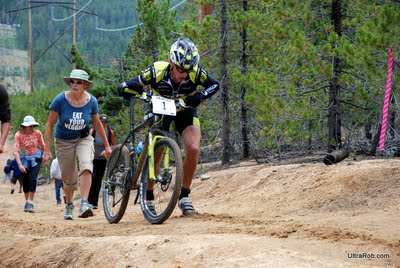 Update 12/13/09: Release of the Race Across the Sky movie on DVD is planned for March 2010.
Last night was the showing of the Race Across the Sky which is about the 2009 Leadville 100 mountain bike race. The movie was sold out in many locations across the country. It was planned as a one night showing but because of it's popularity, there is going to be an encore on November 12th, 2009.
There were 1400 racers entered in the Leadville 100 mountain bike race with some racers taking over 12 hours to finish. That makes for lots of interesting stories to be condensed down to about an hour and a half. Not surprisingly the focus of the movie was on Lance Armstrong, Dave Wiens and a few of the other top racers.
In typical Dave Wiens style, he thanked the volunteers at the top of the Columbine Climb as he went by. It was entertaining to watch Lance Armstrong trying to fix his flat late in the race. In the short panel discussion shown before and after the race, he admits he can't fix a flat to save his life. At the finish line, Dave Wiens said, "Last year Lance was just off the couch, this year he was just off the Tour de France."
Although the movie focused on the leaders, there were shots of average riders throughout the movie. Riders farther back were shown suffering as they pushed their bikes up the Columbine climb. There was an emotional scene as riders that were too slow missed the time cut-off at the Twin Lakes aid station and were forced to stop racing.
The emotional and inspirational story of Roxanne Hall was highlighted. Last year she was hit by a car while training for the Leadville 100. Her back was broken in several places and she had many other life threatening injuries. Not only did she fight back from her injuries but she raced this year.
Grace Ragland chatted briefly as she hike-a-biked up the Columbine Climb. She was diagnosed with MS 20 years ago if I remember correctly.
I saw about a a dozen racers that I know. One was Ricky McDonald. He's one of a handful of racers that have finished the Leadville 100 MTB all 16 years. We used to race shorter NORBA races together back in the '90s. He's still riding the same bike and riding in his Team Huffy Fred shirt.
Overall I thought the movie was great. It gives family and friends a glimpse into our experience that we have when we race it. Sure it doesn't give the full feeling of being there racing or crewing but it would be impossible to portray it all in a movie.
There were some complaints about the video and audio quality and the soundtrack on the Yahoo Leadville 100 list. I thought the video was plenty good although there were some water drops on the lens a couple times and occasional video shaking on the rough roads. I'm not a good judge of music. It would have to be really terrible for it to bother me. There were also some complaints about focusing too much on the leaders.
Maybe I'm not enough of a movie critic, but I enjoyed the Race Across the Sky for what it was. My biggest complaint would be that it doesn't show how steep and tough the climbs are. I was with a group of 16 people and I only heard talk about it being great and no complaints.
Don't Go to the Encore If …
You're looking for a compelling story line
You don't want the movie to be about Lance Armstrong and Dave Wiens
You don't like to hear Bob Roll's wild descriptive phrases
You want it to be about your Leadville 100 experience
You expect Hollywood quality filming
If none of the above apply and you missed the movie last night, you should go see it on November 12th. Locations aren't listed yet but check the Race Across the Sky encore info page soon for details.
– UltraRob
Related Links
Tags: Colorado, Dave Wiens, Lance Armstrong, Leadville 100, mountain biking