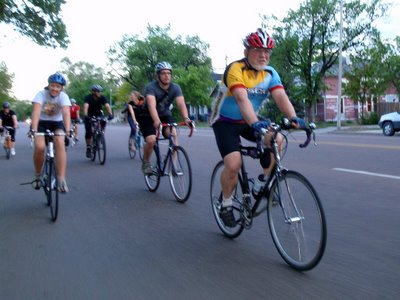 Last evening was the annual Ride of Silence. It's a ride honor and remember those that have been injured or killed while cycling on the roadways. I've taken part in the Ride of Silence 2 out of the last 3 years.
Last weekend I checked to find the date of the ride this year. I found out that it was this week. I also found that one wasn't being organized in Colorado Springs this year. David Peal offered to help organize a ride. We got busy getting the word out and making plans.
We had about a dozen riders show up at Old Town Bike Shop for the ride which was many fewer than for last year's Ride of Silence. I was happy with that since we didn't plan in advance.
After reading the Ride of Silence poem, we had a moment of silence for this killed or injured. We then did a loop around downtown before heading over to where EJ and Jayson were killed. We had another moment of silent at the ghost bikes before heading back to Old Town.
Although the risks of riding on the road don't stop me from riding, they are something I think about. Especially when I was training for RAAM, I was riding thousands of miles on the road. The deaths of Bob Breedlove and EJ and Jayson have impacted me the most.
KKTV 11 News covered the ride. You can view the video and report online.
Tags: Colorado Springs, cycling, Ride of Silence, share the road