The 24 Hours of Moab has long been the party at end of the mountain bike race season. A lot of the the teams are there just to have fun and the race is secondary. A few teams like the winning Pro Men Monavie/Cannondale team and the winning Coed Pro/Am PRO CYCLING team are serious about racing. Solo riders are either serious or don't know what they got into.
One year when I was racing solo there was a team close to my pit that had a portable hot tub surrounded by pink flamingos and Christmas lights. Middle of the night, I so wanted to take a soak instead of heading back out into the dark.
Saturday I walked around camp looking for the most fun camps. Sadly I didn't find any interesting ones. I don't think it was because the fun has been lost but because of the wind. Saturday morning tent poles were snapping and tops had blown off Easy-Ups.
I think everyone was just trying to keep everything from blowing away. I did spot a disco ball lying under a camp table but I didn't make it back later to see if they put it to use.
Even though the wind caused some problems, it didn't keep people from having fun.
The Flawless Penguins always rode with a penguin on the top of their helmet.
Turns out the Flawless Penguins really weren't flawless.
The French froggies looked like they were having fun whether it was day or …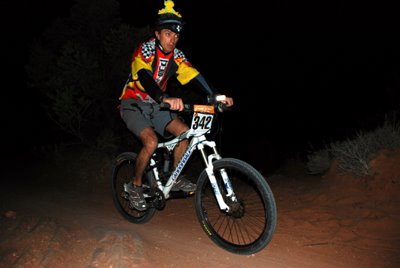 night.
Spencer Powlison of team Dicey seemed to still be having fun in spite of his wardrobe malfunction. Maybe the wind was blowing his wedding dress around too much.
Konrad Binder was all about business while he was having fun.
John Woodruff of CRUISER BIKE DISASTER felt racers chose a bike that didn't look like fun on a rocky course but he looked like he was having fun.
I think this tall bike was only for riding around the venue.
Want to see more of the fun at the 24 Hours of Moab? Take a look at many more photos I took at the 2008 24 Hours of Moab.
Tags: 24 Hours of Moab, Moab, mountain biking, Utah