Last Sunday afternoon I headed out to do the Manitou Incline. I've been doing it and wanted to do something longer. I knew I would hurt but I decided to go to Barr Camp.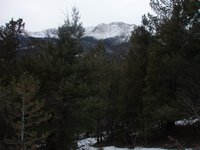 Because it was warm, the snow on the Incline was wet and slushy. This made it more slippery than the dry snow the last few weeks but not enough for me to slip my YakTrax on. My time was slightly faster than I've been doing it but still miserably slow.
Although there was quite a bit of snow on Barr Trail, it was well packed as normal. Unless there's fresh snow, I don't think snowshoes are necesarry until after Barr Camp. I did put my YakTrax on pretty soon after the Incline since I was slipping some on the packed snow.
It's been a while since I've gone up to Barr Camp but I still remembered the trail really well. I got to Barr Camp just as it was getting dark.
After chatting for little while with the Barr Camp caretakers and a couple guys that were on their way down from the summit, I headed back down in the dark. I don't like using my headlamp unless absolutely necessary because it ruins my night vision. It's cool being able to see the outlines of the rocks and trees. I was able to pick out the packed line through the snow in the dark except I stepped into some deep unpack snow a couple times.
I don't normally like all the city lights but they're actually quite a pretty sight from a few thousand feet above. I tried taking several pictures of the city lights. The best one is above but I couldn't really capture them. It doesn't show the outline of the hills and trees in the foreground or how far the lights are below.
Tags: Barr Trail, hiking, Manitou Incline