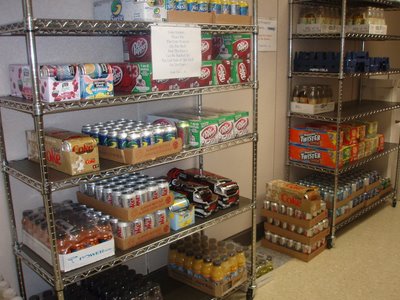 It's the time of the year for cyclists to admit that they aren't always very good examples for healthy eating. During the summer when we're riding hundreds of miles, it's easy to justify some extra junk calories. When the days get short and it's cold, it often catches up to us.
Before I make my own confessions, I'm going to point out I'm really not alone in this. Jill, who's training for the 350 mile Iditarod Invitational in Alaska in the winter, admits she's a recovering junkaholic. The Fat Cyclist got really lean this summer but is now back in fat. Local cyclist, Fonk, says it's time for a change.
My problem used to be Mountain Dew. I'm not talking a little problem. It was pretty common for me to have a 6 pack in a day. In 2003 I had quit drinking it and had my best ever season of racing. Somehow though I started drinking it again. Last year I quit again while I was training for the Race Across America. After RAAM it had been long enough since I'd had Mountain Dew, I had a few sips but couldn't stand the taste.
The problem is I started drinking Coke instead. The more stressed I am the more of it I drink. Part of the problem has been that at my old job, the company paid Coke and Pepsi to bring it in by the case. We just had to make sure what we wanted was put into the coolers. It was just too easy to go grab another can out of the cooler.
From what I've read, I'm not sure that drinking diet drinks are that much better for health in the long term. I've also heard that the carbonation can cause problems with calcium. Although not all the effects of diet drinks are clear that for best health and performance, it's best to stay away from them.
I think that being addicted to sugary drinks combined with caffeine has physical, psychological and habit components. My experience when I've tried quiting in the past is that once I drink some I'll crave it the rest of the day. I found that I can't just cut back on it. The only thing that works for me is to totally stop. In the last few months, I've had too much stress to have the energy to fight my addiction.
I've found that the first week after I quit is the hardest for me. One time I quit after backpacking for 5 days in the Superstition Mountains. Before RAAM I quit after my Eiseman Hut ski trip.
Although I'm not forced to stop drinking Coke for a few days like I would be if I was in the backcountry, now seems like a good time to stop. I no longer have access to all the free Coke I can drink. My stress should be less and I'm out of my normal work routine. The Simple Dollar had a post last week about the cost of a pop addiction. It also had a few suggestions on how to defeat the addiction and several people left more suggestions.
I've made it through my first day without drinking any pop. Tonight I'm really tired and dragging. The kids didn't sleep well last night and I worked pretty hard on my garage over the long weekend so I'm not sure if it's from sugar and caffeine withdrawals. I may just be tired.
Tags: cycling, diet, weight loss