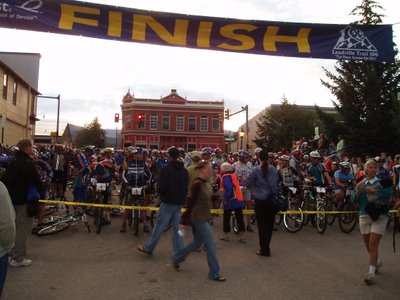 Update: he didn't race in 2007 but Lance Armstrong has entered for 2008.
On July 1st, Lance Armstrong rode 45 miles of the Leadville 100 mountain bike course with his long time coach, Chris Carmichael. Carmichael says that Lance is looking fit and riding well off-road.
Lance bailed on doing the race and claimed he had a scheduling conflict just after Floyd Landis said he was also doing the race. A couple months ago my doctor said that he had heard Lance was still doing the Leadville 100. Here's what Carmichael had to say about it.
Of course, now that he's ridden part of the course, everyone wants to know if he's going to race the Leadville 100 Mountain Bike Race on August 11. I don't know, yet. He liked what he saw and was impressed by how hard some of the climbs are, but his schedule is pretty packed. He originally had to cancel his plans to do Leadville because of a schedule conflict, and it remains to be seen whether he'd be able to squeeze it in somehow. I'll keep you posted.
Related Links:
Tags: cycling, Floyd Landis, Lance Armstrong, Leadville 100, mountain biking