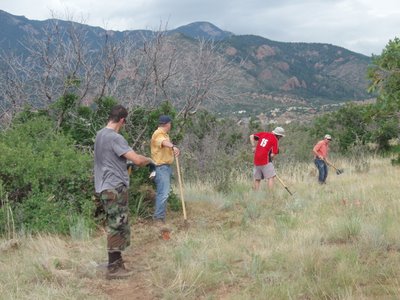 Yesterday morning I went and worked on the new Bear Creek Park Singletrack A few people showed up after we started working so I'm not sure everybody was in the same place at once but I think there were 10 of us working. We were working on a section that didn't have too many rocks or bushes. Everybody worked hard and I think we got a lot done.
We were working on what is marked as section B on the map. We got the trail done up to where it will cross the Bear Creek Main trail. We hadn't walked very far back down the trail before a mountain biker came down. He had been riding the Bear Creek Main trail and noticed the new trail.
Trail building will continue next Saturday, August 4th. I'll be out at the Air Force Academy helping with registration for the road race at the State Games of America instead.
Section before the trail was cut in
Same section as above after the trail was cut in