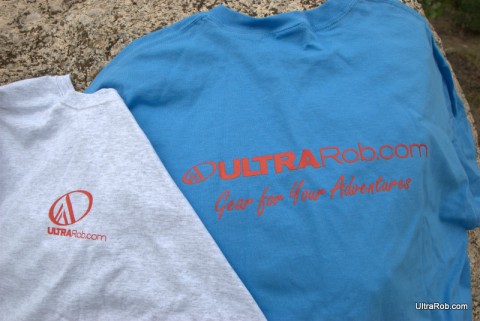 Thanks to everyone who guessed times for the Leadville 100 winner and my time.
David guessed I'd DNF at Twin Lakes inbound and was the closest so he gets a t-shirt. I actually turned around on the Columbine Mine climb since my asthma flared up from the sagebrush on Pipeline.
No one picked Levi Leipheimer to win. David and Mario were really close on Dave Wiens' finishing time and Travis was close on JHK's time but unfortunately neither one was the winner.
Since no picked Levi, I used random.org to pick a winner of the 2nd t-shirt. It goes to Mario.
If you didn't win a t-shirt but want one you can order them for $15. The front has the small logo and the back has the big logo for both colors.
Also the UltraRob.com jerseys are in and some are still available. Click the jersey images below to see a larger photo of them. They are $50 each.
Shipping is a flat $3 no matter how many t-shirts or jerseys you order.
UltraRob.com T-Shirt (Blue))
Price: $15.00

UltraRob.com T-Shirt (Ash)
Price: $15.000

UltraRob.com Jersey (Club Fit – 3/4 Zip)
Price: $50.00

– UltraRob
Tags: Dave Wiens, Leadville 100, Levi Leipheimer, mountain biking