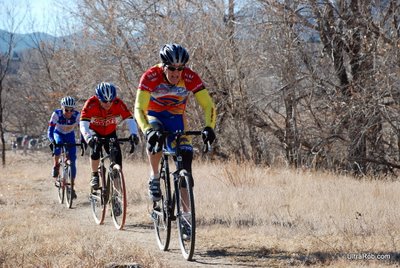 Update: View many more PPV cyclocross photos split out by class.
Today was the 2nd Pikes Peak Velo's SuperCross race. It wasn't cyclocross weather though. The course was dry and dusty with warm temperatures.
I helped with course setup and then roamed around the course. I was able to get a lot of photos. By a lot, I mean about 1,700. It'll take me a few days to go through them and post the good ones. In the meantime here are a few for you to enjoy. Click on the photos to enlarge them.
You can also look at my photos from the September cyclocross race. Those were taken with my old point and shoot camera so they aren't as good as the ones I took today with my digital SLR.